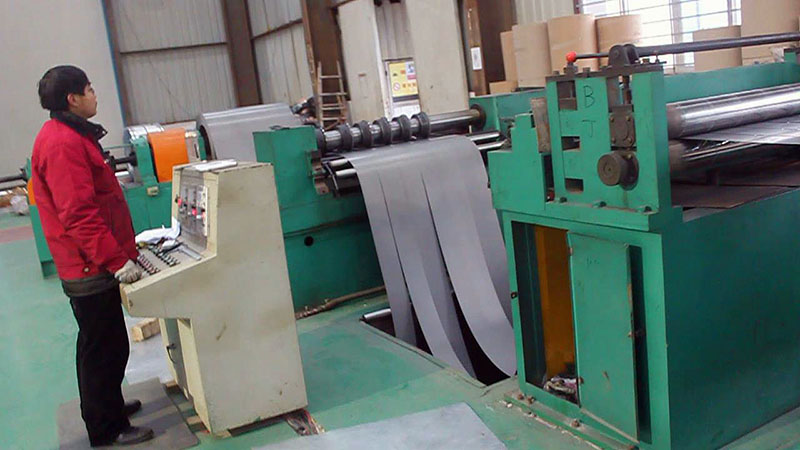 Product name:High Speed CRGO & CRNGO Silicon Steel Slitting Line For Transformer Core Production

Scope of application:

Silicon steel coil,silicon steel sheet,transformer core,transformer lamination

Remark:

Product category:

silicon steel slitting line
Product description
CRNGO Silicon Steel Slitting Line,CRGO Silicon Steel Slitting Line,CRNGO Silicon Steel Slitting machine,CRGO Silicon Steel Slitting machine Description:
The line is fullgh speed and high precisioy automatic, especially for silicon steel (CRGO) coil longitudinal slitting with hin. The wide coil (1000/1250mm) shall be opened and cut into required width strips and then rewinded into rolled coil.
The line speed is up to 120m/min, the min. slits width can be 8mm/10mm/20mm, as per your requirements.
The main working flow is
Feeding trolley→ hydraulic single-load un-coiler→ feeding unit→ plate head cutter→ rectification unit→ main slitter → scrap winder→ loop bridge and buffer pit → pre-distribution & tensioning machine→ recoiler → unloading trolley→ hydraulic & electric control
Machine Features:
DC driving for slitting and recoiling
PLC automatic controlling, VF speed adjusting, touch screen operation
High quality alloy blade for precision working
International famous brand Electrical and Pneumatic elements.
Professional production CRNGO Silicon Steel Slitting Line,CRGO Silicon Steel Slitting Line,CRNGO Silicon Steel Slitting machine,CRGO Silicon Steel Slitting machine,At the same time we perform excellent port service, cost-effective, rapid and timely delivery.