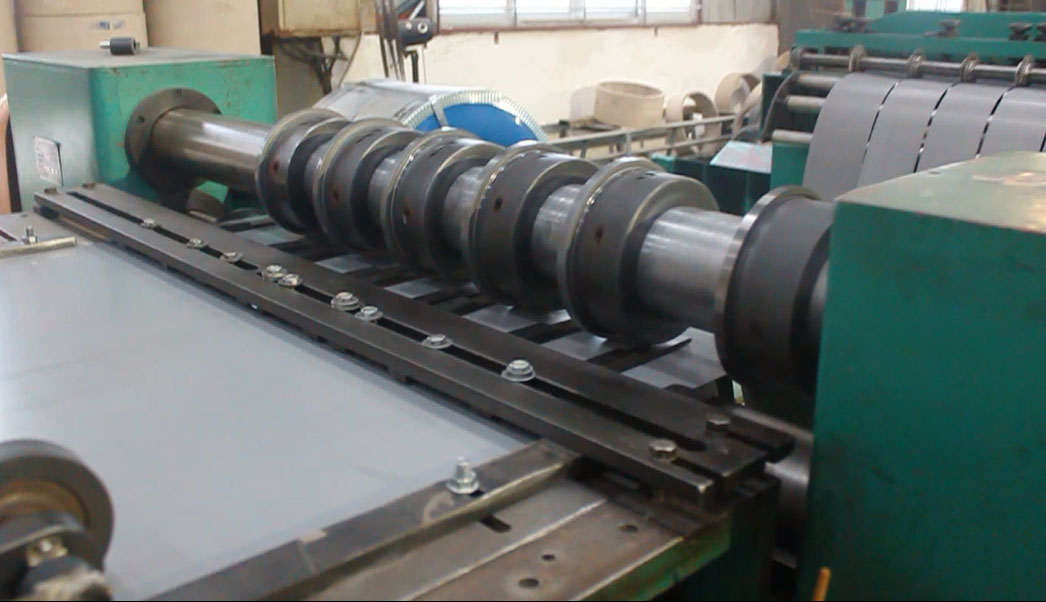 Product name:Silicon Steel Sheet Slitting Line,silicon Steel Sheet Slitting Machine

Scope of application:

Silicon steel coil,silicon steel sheet,transformer core,transformer lamination

Remark:

Product category:

silicon steel slitting line
Product description
BGL-1250 silicon steel sheet slitting line,silicon steel sheet slitting machine
Silicon steel sheetion of vertical shear (ie the rolling sheear line)is the production of transformers, transformers, electrical appliances and sheet metal products such as paper materials will be cut into different width strips, not the lack of special equipment. BHJ series inverter control sliting line is developed by our factory replacement product, from automatic tensioner, frequency ciil machine, open-book lift the material vehicles, frequency roll shear, led is pressed, inverter winding machine, winding down discharging vehicles, electrical appliances such as single frequency conversion control cabinet composed of a continuous cut into strips , rolled by the winding machine coil.
The contiuuous roll cut slitting line coil ,frequency control, production efficiency, rolling shear line speed 10-70 m/min ,using Danfoss VLT®Micro Drive FC51 inverter speed stransmission, speed steady, uniform speed can automatically track the opearation speed can also be stand-alone operation, the device smart digital meter length,
Cut-cut, saving labor. Simple structure.. adjusemt. Operation, and maintenance.

1.Construction and characteristics of the production line
1 Decoiler including the feeding vehicle (hydraulic pressing, electric moving of the material vehicle, Electric lift)
2 material supporting device
3 adjustable guide device
4 roll slitting machine
5 supporting intermediate bridge
6 pressing guide device
7 Recoilder(hydraulic pressing)
8 Hydraulic station
9 Control cabinet and operation desk
10、Carbide cutting tools :12 pcs
2.Technical characteristics of the production line
1.requirement of the decoiler
(1) inside diameter:f500mm
(2)width:500-1250mm
(3)max weight:6T
(4)max outside diameter:φ1200mm
(5)thickness of the silicon steel sheet:0.21-0.5mm
2.Coils specification
(1)max inside diameter of recoils:f510mm
(2)min width of cutting sheet:40mm
3.technical specification and main parameter
(1) spindle diameter:Φ125mm,
HRC53-59,Rockwell hardness of the spindle surface
axial termination runout≤0.003mm,
radial runout≤0.02mm,
end runout after installing the roll scissors≤0.012mm;
(2)cutting speed:0-120m/min
(3)Recoiler end nonstraightness below 1.0mm (continuous uniform cutting speed, 10 circles inner layer not considered
(4)Maximum number of knives
(5)Recoil pressure:500kg(adjustable air bag)
(6)Cutting burr≤0.02mm;
(7) Single edge non-straightness≤0.2mm/2000mm;
(8)tolerance of cutting width:±0.1mm;
(9)Diameter of knife tool:Φ250mm,
4. Working voltage: voltage fluctuation 380V±10%,Frequency 50HZ±2%
5. Environmental conditions: not more than 45°C for the temperature and not higher than 85% for the humidity.
6. Equipment operation direction: Left

Professional production Professional production Silicon Steel Slitting Line,At the same time we perform excellent port service, cost-effective, rapid and timely delivery.,At the same time we perform excellent port service, cost-effective, rapid and timely delivery.

Professional production Silicon Steel Sheet Slitting Line,silicon Steel Sheet Slitting Machine,At the same time we perform excellent port service, cost-effective, rapid and timely delivery.