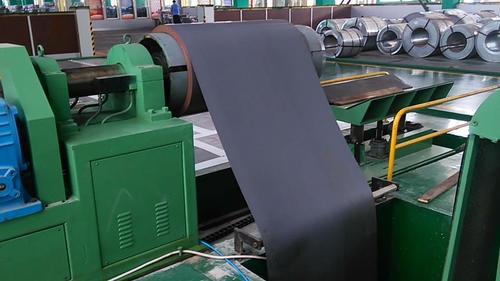 Product name:Electrical Steel Slitting Line-1250MM for Transformer Lamination

Scope of application:

Silicon steel coil,silicon steel sheet,transformer core,transformer lamination

Remark:

Product category:

silicon steel slitting line
Product description
Electrical Steel Slitting Line,Slitting Line For Transformer Lamination,Electrical Steel Slitting Machine
Technical characteristics of the production line
1.requirement of the decoiler
(1) inside diameter:f500mm
(2)width:500-1250mm
(3)max weight:6T
(4)max outside diameter:φ1200mm
(5)thickness of the silicon steel sheet:0.21-0.5mm
2.Coils specification
(1)max inside diameter of recoils:f510mm
(2)min width of cutting sheet:40mm
3.technical specification and main parameter
(1) spindle diameter:Φ125mm,
HRC53-59,Rockwell hardness of the spindle surface
axial termination runout≤0.003mm,
radial runout≤0.02mm,
end runout after installing the roll scissors≤0.012mm;
(2)cutting speed:0-120m/min
(3)Recoiler end nonstraightness below 1.0mm (continuous uniform cutting speed, 10 circles inner layer not considered
(4)Maximum number of knives
(5)Recoil pressure:500kg(adjustable air bag)
(6)Cutting burr≤0.02mm;
(7) Single edge non-straightness≤0.2mm/2000mm;
(8)tolerance of cutting width:±0.1mm;
(9)Diameter of knife tool:Φ250mm,
4. Working voltage: voltage fluctuation 380V±10%,Frequency 50HZ±2%
5. Environmental conditions: not more than 45°C for the temperature and not higher than 85% for the humidity.
6. Equipment operation direction: Left

Professional production Electrical Steel Slitting Line,Slitting Line For Transformer Lamination,Electrical Steel Slitting Machine,At the same time we perform excellent port service, cost-effective, rapid and timely delivery.